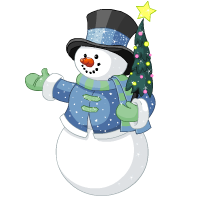 Is there anything more wonderful than the holiday season? Pulling out ornaments from Christmas's past, decking the halls with boughs of holly and crafting the perfect holiday card to send to friends and family near and far. While the festivities of the season may, at times, feel daunting, there is at least one aspect we can help with… your holiday cards!
Step inside to explore some of our fabulous and festive Christmas Card Templates that are easy to make, easy to print and easy to send. It's a jolly time indeed!
Christmas Card Templates
Traditional
Looking for a traditional Christmas card? Choose from our Christmas Collage collection that includes ornaments, bows, snowflakes and soooo much more.
View our entire collection here.
Colorful & Cartoony
For the not-so-serious family, our colorful and cartoony Christmas collages are perfect, and guaranteed to bring a smile the faces of your recipients. Here are a few…
Non-Christmas Specific
Of course, for those of us who may celebrate a non-religious holiday season, we have options for you as well. Take a peek at a few of those  options here:
Creativity Abounds
Not feeling the spirit with our Christmas Collages? No problem! Use our photo-editing toolbox to create the perfect card for your family. Backgrounds, Stickers, the Cut-Out Tool and our many Fonts can be combined in a gazillion different ways. (Yes, a 'gazillion').
Here is a sampling of things you can do:
Cool Collages, Fun Fonts, Silly Stickers, Festive Backgrounds…. we have everything you need to share your holiday spirit! Don't forget to tag us on Facebook after you make your creation.