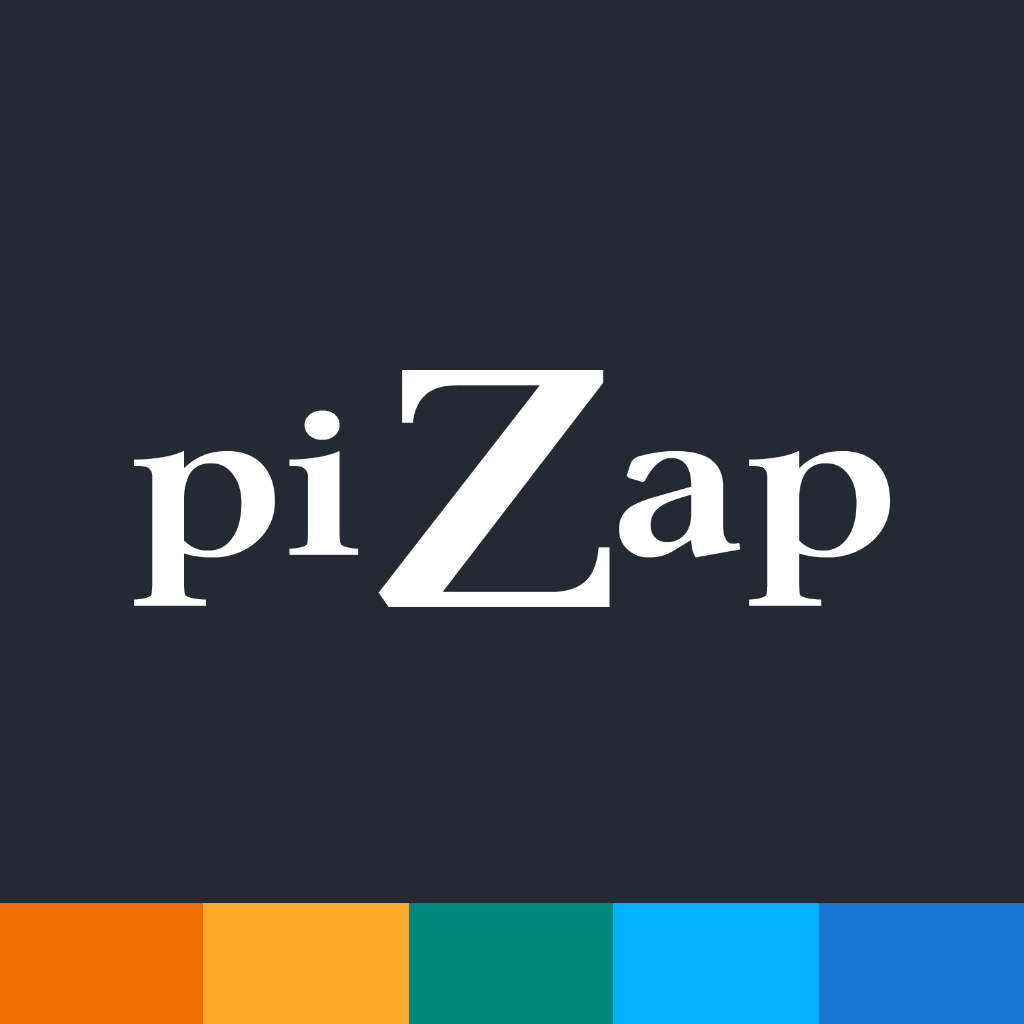 If you're looking for creative tools to help take your world – both online and off – to new heights, look no further than piZap.
When we say we're going to be your new favorite photo editing and design tool, we're not kidding. Why? Because we make it easy to help you show off your creativity, and highlight your personal style. Easy, creative and fun, too? YES!
Discover how piZap is going to rock your world.
Online Photo Editor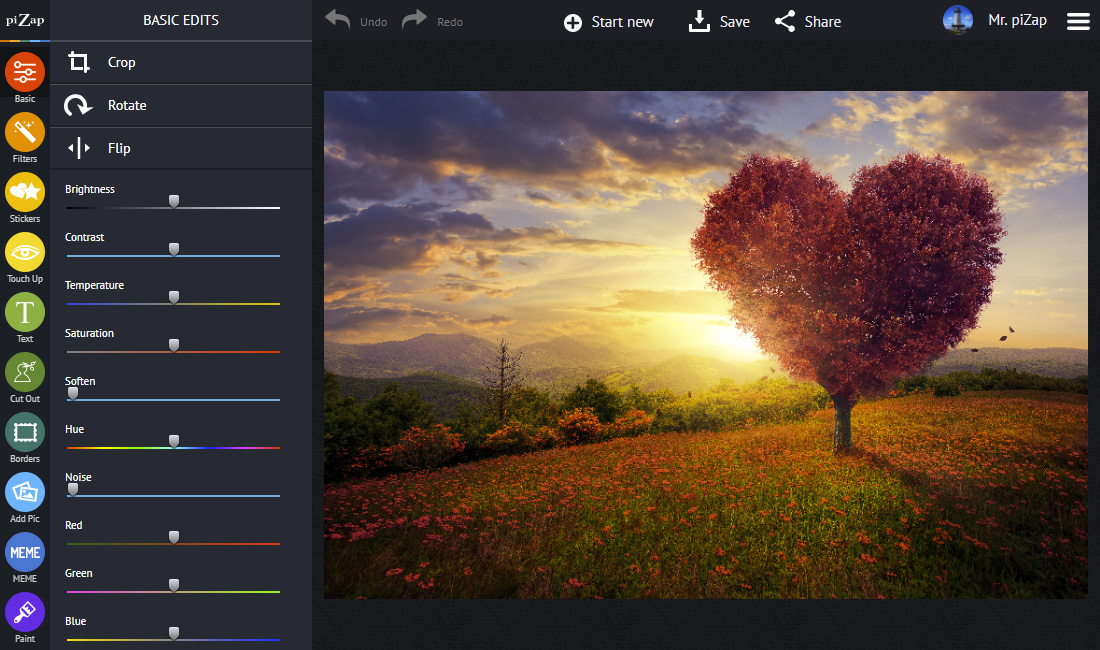 When we say that piZap is the easiest online photo editor, we know that this is a bold statement, but we really believe it. From the start, piZap was created because we know that professional photo editing packages like Adobe Photoshop can take a lot of time to learn and there are many users that want something more accessible. We have taken the most common (and fun) photo editing tools and simplified them as much as possible. We want our users to be able to quickly start editing photos without ever cracking a help file or reading a tutorial.
RELATED: 5 Photo Editing Tools to Put a Spring in Your Step
With our Photo Editor, you'll be able to quickly and easily make basic edits – such as cropping, zooming, and tilting (sometimes those social media images need a little love). You can also adjust colors, and add filters and effects. May not seem that exciting now with filters being a key feature of many social media platforms, but just wait until you bust out a bright purple brick wall overlay with a torn-edge border. Your friends will think you've been in art school! Find your uniqueness with piZap's overlays, textures, and filters.
The Ultimate Collage Maker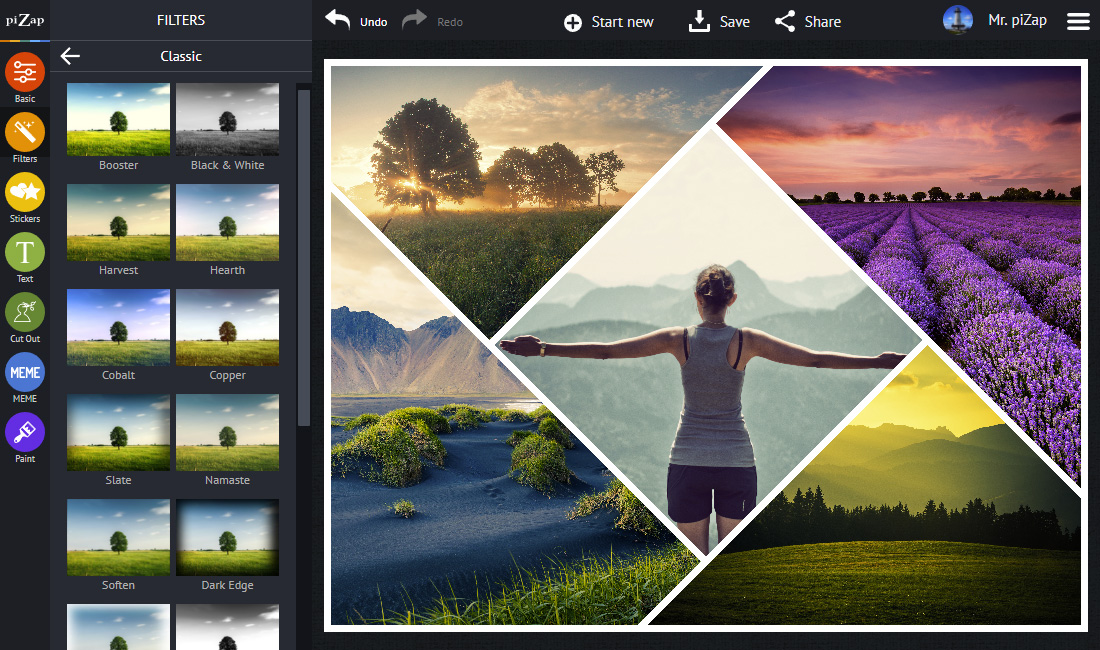 Sometimes it takes more than one photo to tell the whole story. That's where piZap's Collage Maker comes in. The drag and drop features make it super easy to build out your collage and with thousands of layouts and designs to choose from, it's fun too!
RELATED: How To Build Amazing Vacation Photo Collages
Choose from seasonal templates, such as Valentine's Day, St. Patrick's Day, Halloween, Thanksgiving and Christmas OR get creative with rectangles, hearts, stars and circles. You can change out backgrounds, frame colors and spacing, add drop shadows and so much more.
No need to get overwhelmed by options either! Yes, we do have a lot to choose from, but the tool is organized in such a way it makes it easy to quickly and easily choose your layout and drop photos until your collage is complete.
Touch Up Tool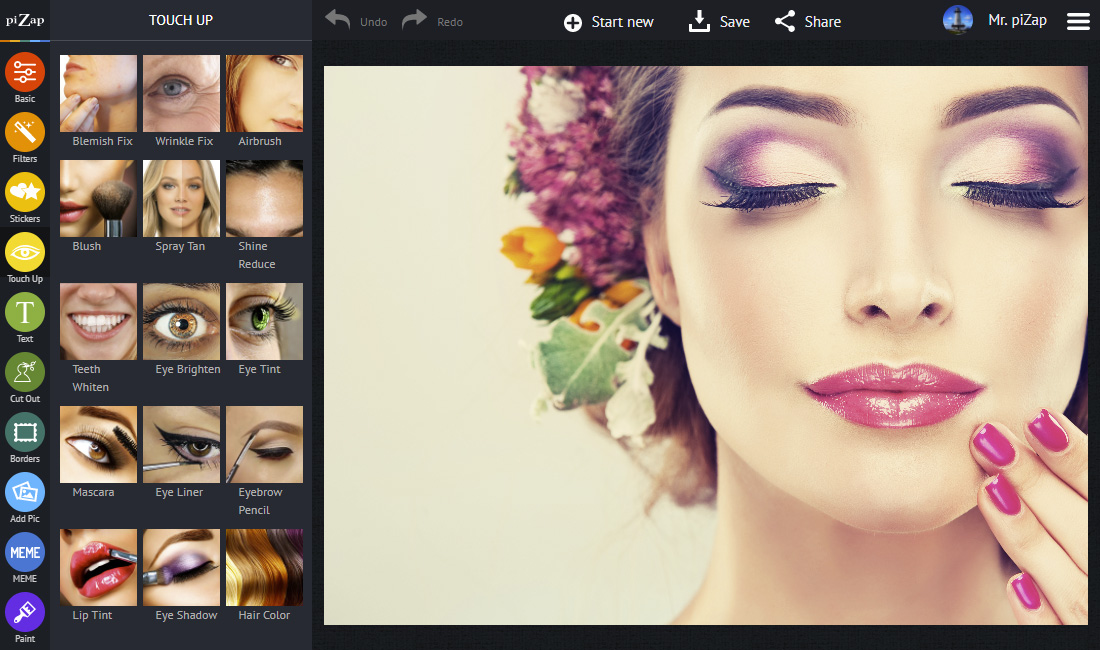 Ever have a photo taken when you just so happen to have acquired a blemish? What about wishing your teeth were just a little whiter, or your eyes a little brighter? Well, our new Touch Up tool can help create a more polished version of you (or aunt Florence, we won't tell).
RELATED: Photo Editing Tips For Beginners
And, just like all our other tools, it's super easy to use. Simply choose Touch Up, upload your photo and select from a variety of options. Spray tan, lip tint, digital makeup (yes, it exists!) and so much more. Check it out!
Online Graphic Design Tool
There are literally thousands of ways you can create an image with piZap's Design Tool. Design party invitations, holiday cards, business cards and more. Be careful though…. Our Design Tool is utterly addictive! (Don't say we didn't warn you.)
RELATED: Awesome Font Combinations For Designs That Pop
Some of our most popular Design Tool features include Meme Maker, social media templates, festive stickers, and overlays. There are literally thousands of ways to make your next design – be it print or digital – pop!
What are you waiting for? Get started with piZap and let your inner-creative soar to new powerful heights!