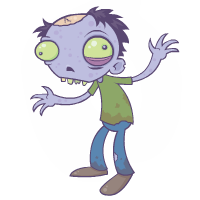 When it comes to Halloween, either we lean toward cutesy or creepy. If the undead tickles you're fancy, then you're going to love the gooey, gory Zombify features piZap has to offer.
Discover them here.
Zombify Yourself in 5 Easy Steps
Want to get Zombified? This video shows you how. Or you can simply follow the steps below.
Upon login, choose Start, then EDIT. Choose your favorite about-to-get-gory image.
Under Stickers (the little Heart icon up top), scroll down to Zombify.
Choose your gore – mouth, eyes, scratches – and overlay them on your image.
OPTIONAL – add more depth with the Grunge Texture. You can find that under Filters >> Textures.
Click SAVE.
Happy Zombying!